Online:
9:00 am Traditional
10:00 am Contemporary
In-Person:
8:30/11:00 am Sanctuary & 11:00 am Casual Worship Center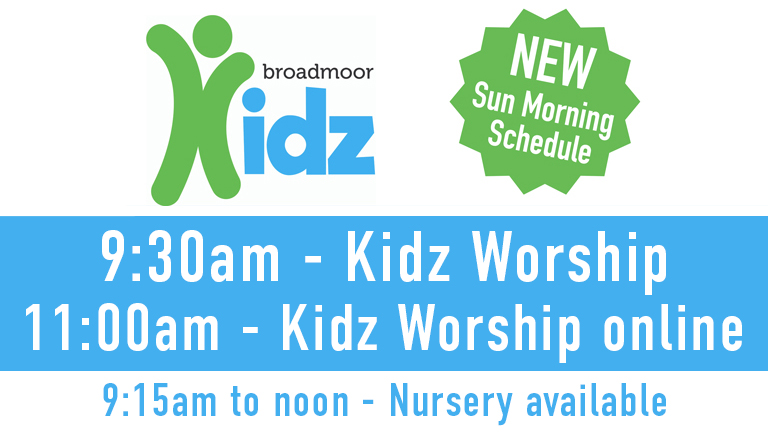 Children
Broadmoor Kidz
Welcome to Broadmoor Kidz. We offer opportunities for worship, learning, and fellowship for K through 5th grade students every Sunday morning both in-person and online. Join us for Bmoor Kidz Worship at 9:30 a.m., upstairs in the Children's Ministries Building. Or you can join us online at 11:00 a.m. for Bmoor Kidz Worship.
Nursery
Every Sunday from 9:15am to noon. we have a nursery for infants to Pre-K children, located in Room 106 of our Children's Ministries Building.
DROP OFF LOCATIONS*
Children's Ministries Building SHARP RD ENTRANCE
Drop off K-5th graders under the covered entrance to attend Bmoor Kidz Worship which begins at 9:30 a.m.
Children's Ministries Building INTERNAL ENTRANCE (facing Sanctuary)
Drop off infants-Pre-K4 children under the covered entrance to play in the Nursery
*We understand our kiddos don't always cooperate on Sunday mornings! If you are running a little late, you can always drop off your kids at the Children's Ministries Building internal entrance (that faces the Sanctuary), no matter their age. A volunteer will bring your child(ren) to the appropriate room.
For more information about Broadmoor Kidz, contact Kennon Pickett at kpickett@broadmoormethodist.org or by calling the church office at (225) 924-6269.
Children's Learning Center
Broadmoor's daycare and preschool provides a safe and loving environment that continuously works on the development of a child's positive self-image, social adjustment, listening and responding skills, and language development. Your child will also have opportunities for enrichment in science, math, music, and physical development.
WELCOME TO YOUR CHURCH FAMILY!
ADDRESS:
Broadmoor United Methodist
10230 Mollylea Dr.
Baton Rouge, LA 70815
225.924.6269
info@broadmoormethodist.org
Join our mailing list!
#bmoorsocial





© 2018 Broadmoor United Methodist Church.